Click on Buy Now to make a purchase
Greetings! We deal with a variety of unique and unusual items, such as: rare books, antiques and a wide range of scarce curiosities. Whether used as collectibles, interior design pieces or photography/movie props, all of our antiques are true period originals and along with our curiosities, are offered for purchase or rent. If you have a specific request or are just "curious", please let us know.
We also invite you to visit our auctions on eBay under the user ID: motusbooks_antiques
Please contact us at: motusbooks@sbcglobal.net for any additional information.
FEATURED BOOK
PROFETIE Dell' Abbate Gioachino 1625
is a book on Papal prophecies also contained in recently discovered manuscript
THE LOST BOOK OF NOSTRADAMUS
( NOSTRADAMUS VATINICIA CODE)
NEWS!

Glenn Beck acquired 1920's edition of The Wizard Of Oz from MotusBooks and used it on his TV show aired on Jan. 23 2012
2010
Columbia Pictures purchased several props from MotusBooks for a new movie feature, The Smurfs, including A. Waite's translation of Levi's The History of Magic. The book serves as a reference for creation of Gargamel's book of magic as well as prop in wizard's castle. We also provided them with a reprint of the first edition of Smurf's comic originally created by Peyo.
"...The Smurfs is a forthcoming 2010 live-action/CGI-animated fantasy-family film. The film will be directed by Raja Gosnell, with scripts penned by J. David Stem and David N. Weiss. Produced by Columbia Pictures, the film will be distributed by Columbia Pictures. It will be the first film in planned The Smurfs franchise. The Smurfs is expected to release in United States on December 17, 2010. The film will be based on 1981's comic book and animated television series of the same name. Voices will be given by John Lithgow, with an accompany from Julia Sweeney. The film won't be a sequel to Les Aventures des Schtroumpfs or The Smurfs and the Magic Flute, but will be starting from another storyline..."
2008 & 2009
MOTUSBOOKS began a business relationship with Incantation Productions, Inc based on a new Nicolas Cage movie called The Sorcerer's Apprentice (the movie will be released in 2010). We have provided a number of antiques that are being used as movie props; such as: original antique scrolls, daggers, swords, African and Asian art crafts, and more. Incantation Productions, Inc also purchased an original first American edition of A. Waite's The Book of Black Magic. This book served as inspiration for the creation of the Sorcerer's Book of Magic which is one of the essential pieces in the movie's story.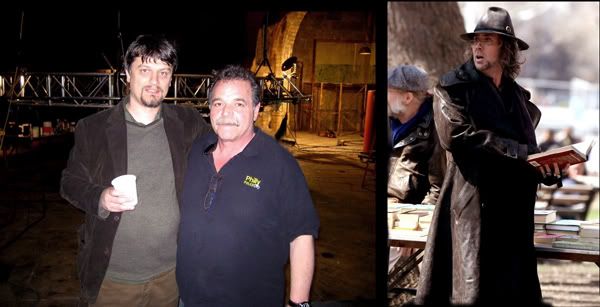 On the left Sasha and prop master Jim Mazzola, to the right Nicolas Cage as Wizard at Sorcerer's Apprentice shooting set in Brooklyn NY, April 2009.
View 'The Sorcerer's Apprentice' Trailer on YouTube.